Want to help your lodge run more smoothly? Stay in the loop with these helpful pointers on things like online signup, adding family members to an existing membership, and more.
Online Signup
If your lodge doesn't require a vote and you want new members to appear on the lodge membership list immediately, encourage them to use online signup, rather than submitting a paper application. Mailing time plus data entry can mean that a new member may not appear on your membership list for 2 to 3 weeks after a paper application is sent.
With online signup, lodge officers will receive an email notification of the new member that day.
Online Renewal
Members can quickly and easily renew a membership online without having to log into the website. They can simply click the "Join/Renew" button in the top right corner on the homepage, enter their name and member number, and follow the prompts.
Renewal or signup over the phone
Sons of Norway is currently unable to take credit card information over the phone for membership renewal and signup. We are reviewing this method of payment to ensure we are following the most current security protocols. While we regret the inconvenience, protecting the personal information of our members is of paramount importance for Sons of Norway.
Credit card information provided on application forms and renewal invoices will be processed as usual. Members are encouraged to sign up and renew online.
Lapsed membership
Members may not be able to renew through the website if it has been over a year since their due date. They should contact Membership Services for more information.
Family membership
A Sons of Norway Family Membership covers everyone who lives or receives mail at the same address (single family residence). This category is currently available in the U.S., and will be extended to Canada and Norway on January 1, 2020. 
When buying a $95 Family Membership online, the 'Add a Family Member' button will appear on the landing page after the payment has been processed. Click this button to add people who live in the same household to the membership.
If a current Sons of Norway member wants to add a non-member to an existing household membership, or change from an individual to a family membership, they can do so online or over the phone. To add the family member online, select Join/Renew (upper right corner), then Add a Family Member. Or, call Membership Services to add a family member to an existing membership.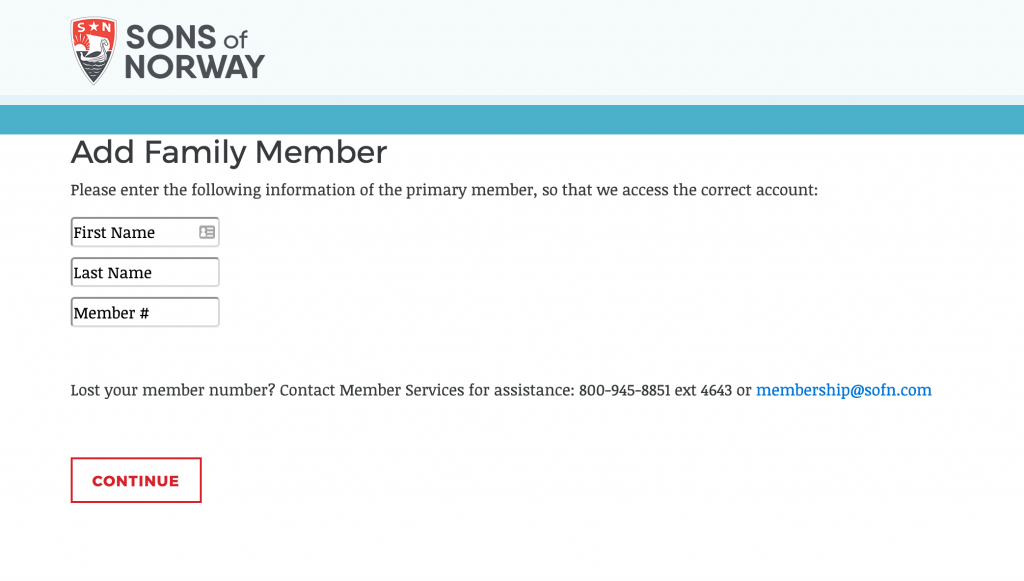 NOTE: If another member of the family currently has a Sons of Norway membership or has had a membership in the past, they should not be added through the online form. Please direct them to contact Membership Services at Headquarters to have the person added to the family membership.
There is no extra fee due at the time family members are added. Members who formerly paid the Individual rate will be charged the Family rate on their next due date.
Gift Membership
If a member is buying a membership as a gift, have them complete the sign-up process for the recipient and then contact Membership Services to request a Gift Membership certificate and complimentary issue of the Viking.
Who to contact?
If you have questions or need additional information on any of these topics, contact Membership Services:
612-821 4643, 800-945-8851, [email protected].