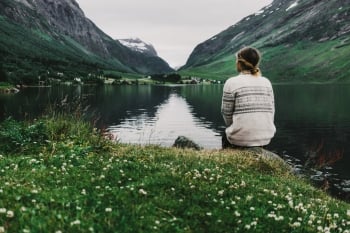 Traveling solo can seem daunting at first, but those who do so often find they enjoy or even prefer its many rewarding benefits. Not only do you eliminate the cost of a second traveler, but you also get to choose your preferred destinations and set your own schedule. Plus, getting outside your comfort zone can help you make new friends and connections along the way. To ease the fear of traveling on your own, we compiled a list of five destinations in Norway that are known for being safe, easy to reach and full of perfect solo activities.
Oslo
Oslo is the capital and one of the busiest cities in Norway. It has over 30 museums and other attractions as well as a great night life. Walk around and explore the fountains and artwork, or hop on a boat to tour the dramatic landscapes of the Fjords. To save on transportation, get the Oslo Pass that gets you free public transport and access to many attractions around Oslo.
Bergen
Bergen is the second-largest city in Norway and one of the most beautiful destinations in the country. Many visitors come to see the picturesque fjords, waterfronts and colorful buildings. Some popular activities in Bergen are hiking Mount Fløyen, taking in the panoramic views of the city from the Fløibanen cable car, or joining a private tour to learn the city's best secrets.
Lofoten Islands
Located above the Arctic Circle, these islands have spectacular views of peaks rising out of the sea. It's a great spot for bird watching, as it has Europe's highest concentration of white-tailed sea eagles. Lofoten is also a popular destination for hiking, fishing, kayaking and Arctic surfing, and is an excellent place to experience the Northern lights. And don't worry about traveling here on your own; the Lofoten Islands are now one of the top tourist destinations in Norway.
Trondheim
Known for its long Viking history, Trondheim embraces the country's traditions and is the perfect place to explore Norway's nature reserves and coastline. It's a very laid-back city and off the beaten track, so come here to unwind and relax.
Tromsø
Known as the 'Gateway to the Arctic,' this is the best place in the world to view the northern lights because of how dark it is in the winter. Join the Tromsø Northern Lights Tour to experience the phenomenon. Tromsø is also known for whale watching and fjord cruises, and is the perfect place to learn how to 'mush' in the Arctic circle with huskies pulling you through the snow on a dogsled.
Accommodations and Travel Tips
Norway has many accommodations throughout the country that offer a wide range of price options. Stay at a cabin in rural Norway or check out Airbnb for apartments that tend to cost less than a hotel.
Getting around Norway might seem easier with a car but as a solo traveler you can cut costs and embrace the local culture by taking advantage of the robust public transit system and traveling by train, bus or ferry. The cheapest way to travel around Norway is the express coach. Norway has a network of coaches that link to major cities, ferries and rural areas. Also, make sure you pre-book online to save a spot and take advantage of discounts.