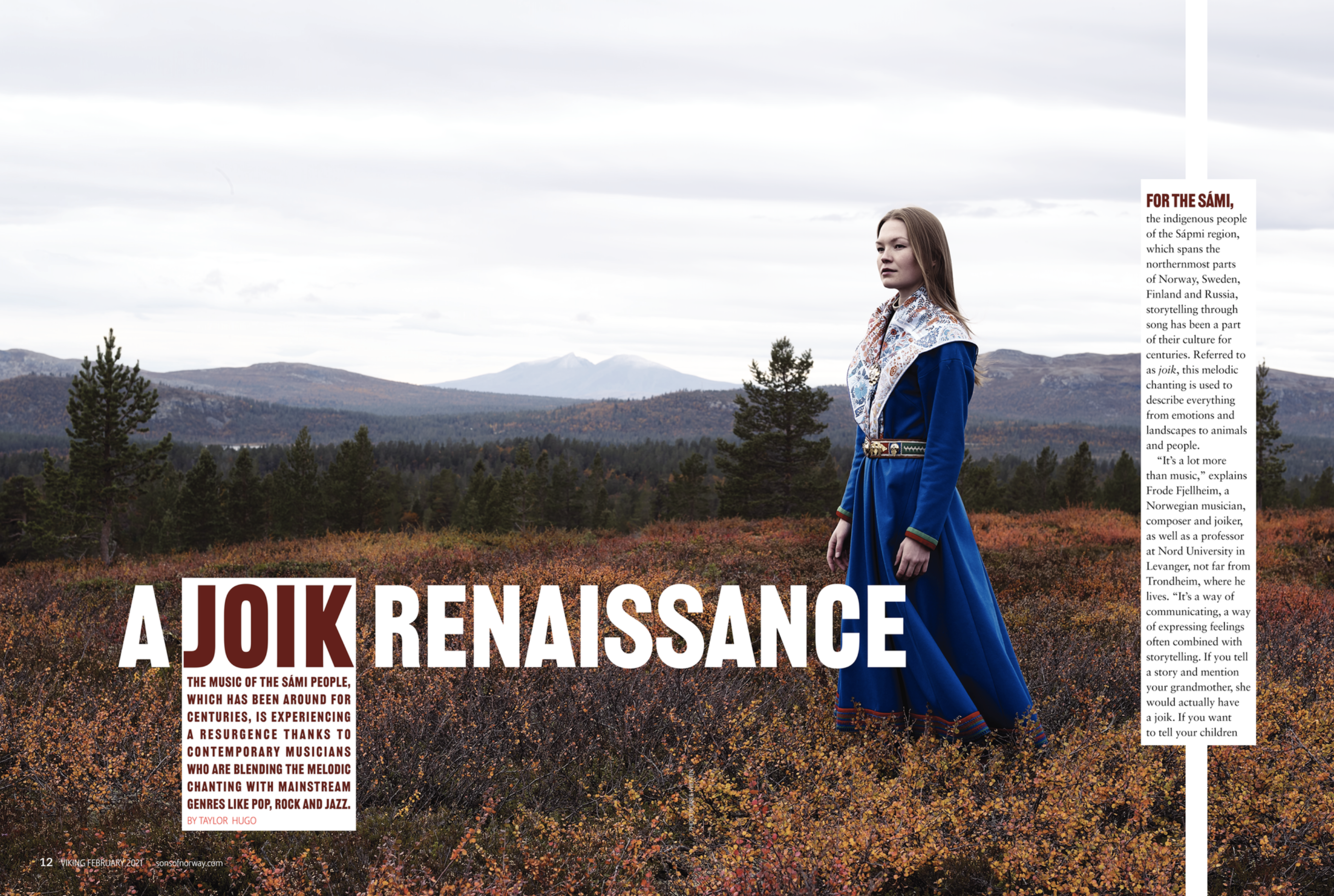 This month, on February 6, we celebrate National Sámi Day. For the indigenous people of the Sápmi region, which spans the northernmost parts of Norway, Sweden, Finland and Russia, storytelling through song has been part of their culture for centuries.
How much do you know about joik? Joik, the music of the Sámi, is a melodic chanting used to describe everything from emotions and landscapes to animals and people. Legend has it that the Sámi people got these chants from Arctic fairies and elves. The oldest joiks are believed to have been recorded by priests and missionaries in the 1700s and 1800s, making it one of the earliest vocal traditions in Europe. Check out five joik songs from Karasjok, Norway, here.
Joik is experiencing a resurgence thanks to contemporary musicians who are blending the melodic chanting with mainstream genres like pop, rock and jazz. In the February issue of Viking magazine, we explore the history of joik and highlight some of the musicians who are responsible for its recent resurgence.
One of Sámi music's most genre-bending trailblazers is Mari Boine. Raised on the Finland-Norway border, Boine's career started in the 1980s, and today she's a music icon. Her music is inspired by and infused with her cultural roots. It blends rhythms of jazz, folk and rock.
A young musician following in Boine's footsteps is Ella Marie Hætta Isaksen. She hails from Tana in northern Norway and combines joik and Sámi lyrics with modern music. Check out a video of her performing here. She also sings with her band, ISÁK.
Elle Márjá Eira is from a Kautokeino-based reindeer herding family. She emerged from the small municipality of 3,000 to perform her electronic-joik music on a global stage, both solo and as part of the three-piece band Snoweye alongside Led Zeppelin's John Paul Jones. She's also a talented film music composer and filmmaker.