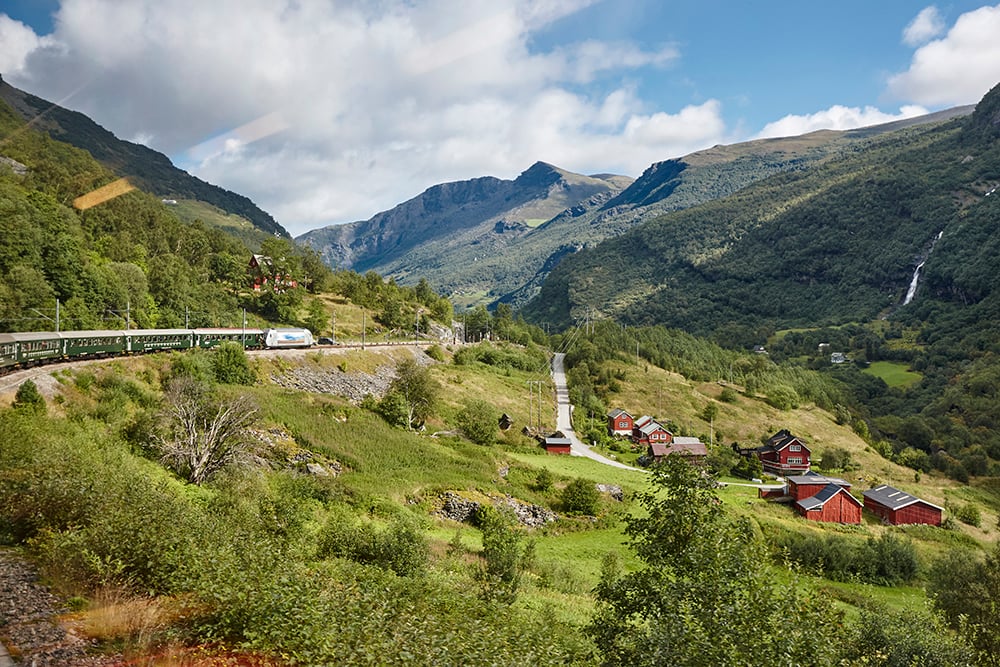 Known for being northern Europe's longest stretch of railway, the Bergen Railway in Norway is a seven-hour trip crossing one of Europe's mightiest mountain ranges. Voted one of the world's best train rides by Lonely Planet, you'll get to travel alongside snow-covered mountains and waterfalls as you make your way to Oslo.
Built between 1875 and 1909, the Bergen Railway runs approximately 310 miles with roughly 60 miles of that going through the wild mountain terrain. The line climbs 1,200 meters and goes through 182 tunnels. The train makes 21 stops, providing you opportunities to either explore the quaint villages or hop onto another train.
One of the stops is the Myrdal Station, where you can continue to Oslo or transfer to the Flåm Railway line and its historic Flåmsbana train. Flåm Railway is known for being the world's steepest railway line. But, if you choose to continue on your way to Oslo, you'll keep trekking along on the Bergen Railway and make a stop on top of a mountain at 1,222 meters – the highest railway station in Europe. You'll also go through Lærdal – the world's longest rail tunnel – and you'll experience the most spectacular stretch across Hardangervidda, Europe's highest mountain plateau.
While you're making your journey through farmland with colorful houses and snowy mountain tops, you can also enjoy local delicacies like reindeer stew or baked salmon. The train also offers free Wi-Fi and complimentary tea and coffee. Learn more about the Bergen Railway here.