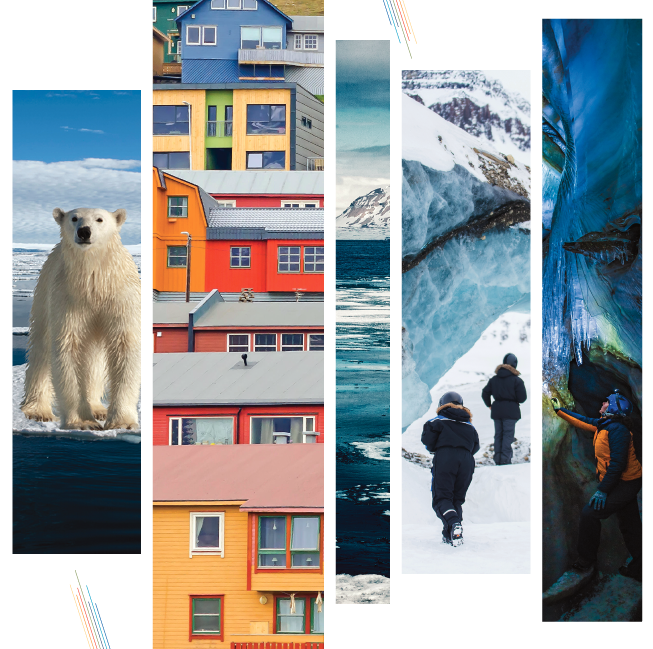 Did you know that the world's northernmost town is in Norway? Perched high above the Arctic Circle on Spitsbergen island lies the polar village of Longyearbyen. It's inhabited by approximately 2,000 residents from 50 countries. From dogsledding to tipping back an ice-cold beer at the local brewery, this town is filled with unique adventures. Read more about Longyearbyen in the January issue of Viking. Here are some additional quirky facts about the town.
No Cats Allowed
Cats have been banned on Svalbard since 1992 in order to protect the arctic bird and wildlife population.
It's Always Sunny in Longyearbyen 
… during the summer, that is. From mid-May through August, the midnight sun hangs high over the polar sky—and never sets.
Feelin' Blue
As the region dips into October, it's already quite dark in the evenings and noticeably less daylight day by day. This dark season is in Svalbard is referred to as the "polar night," which lasts into late January or early February. As the sun hovers just below the horizon, at around a 6-degree angle, the residual light is reflected off the blue sea and the white snow, and the landscape becomes bathed in the deep hue. Locals call this the "blue hour."
Pack Your Slippers
In Longyearbyen it's common to remove one's shoes before entering a restaurant, hotel or other public building. The tradition dates back to the town's mining years, when shoes were removed to minimize the spread of coal dust.
Here Comes the Sun
Every year on March 8, residents gather on the town's hospital steps to watch the sun's long-awaited return over the horizon. This event kicks off a week-long celebration of concerts, parties, art exhibits and more.
Brrr!
Average temps in the winter hover around 6-7°F. What about summer? Despite the 24/7 presence of the midnight sun, summer temps only average in the 40s.