Musician Odd Nordstoga grew up in Telemark, Norway, with a strong sense of folk-music culture that's shaped the artist he is today. He debuted as a recording artist in 1997 with the band called Something Odd. In 2004, Nordstoga signed a major-label recording deal with Universal Music and released his solo album, "Luring," which features a mix of folk-pop songs. The album topped the Norwegian album chart for 14 weeks, and he earned a Spellman Award for Artist of the Year.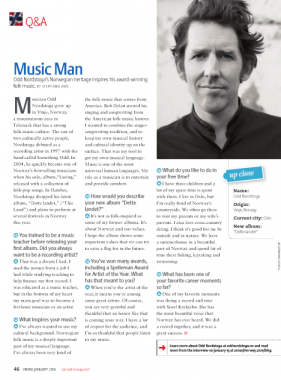 At the heart of his musical inspiration is his Norwegian background." I wanted to combine the singer-songwriting tradition and to keep my own musical history and cultural identity up on the surface. Music is one of the most universal human languages," Nordstoga says.
In October, he dropped his latest album, "Dette landet." Learn more about Nordstoga in the January 2016 issue of Viking, and read more from the interview below.
Q: Where's your favorite place to travel?
A: Last year I went with my wife and three kids to New York for a couple of days, and that was really a great experience. It's just perfect to be in a big city with the kids and just walking the streets. I think it's so beautiful to be in the mountains in autumn, and in the summer I love being by the sea.
Q: Have you ever performed in the United States?
A: Someday I would love to perform in America. There are a lot of similarities with my musical culture.