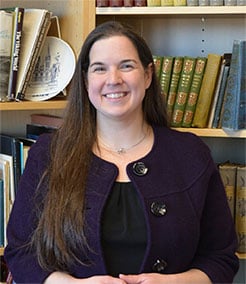 Sons of Norway announced today that Corrie Maki Knudson has been hired to serve as the new Director of the Sons of Norway Foundation.  Joining the Foundation in advance of its 50th anniversary, Knudson brings with her a wealth of experience and success from within the fundraising industry.
Having spent the last decade working in philanthropy and focusing on the areas of major gifts and grant writing, Knudson will now concentrate her efforts on increasing major and planned gifts during the Foundation's jubilee. "This is an exciting time to be joining the Foundation," said Knudson. "With the upcoming 50th anniversary as well as the potential that we will cross the $2 million-in-giving –threshold, thanks to the contributions of our dedicated donors,  there is a very bright horizon, indeed." In addition to her larger duties, Knudson will also be responsible for day-to-day operations and the awarding of financial support via the Foundation's grants and scholarships programs.
"I'm thrilled to have Corrie join the Sons of Norway team during this exciting time of growth for the Foundation," says Eivind Heiberg, CEO. "Her unique experience and perspective in building a high-performance giving culture is sure to take the Foundation to the next level."
Knudson will also focus on developing connections with new donors, while nurturing relationships with existing donors and partner organizations. In doing so, she will leverage the Foundation's strong reputation among Sons of Norway members and donors and implement a new level of fundraising best practices. "Thanks to Corrie's experience and leadership, we are now poised to grow by leaps and bounds in the next few years," said Foundation Board of Governors Chair Thomas Heavey.
Sons of Norway's International President Jon Tehven also indicated a confident expectation of growth by saying, "Corrie brings significant fundraising experience to the Sons of Norway Foundation, which will continue to grow and carry out its mission under her leadership."