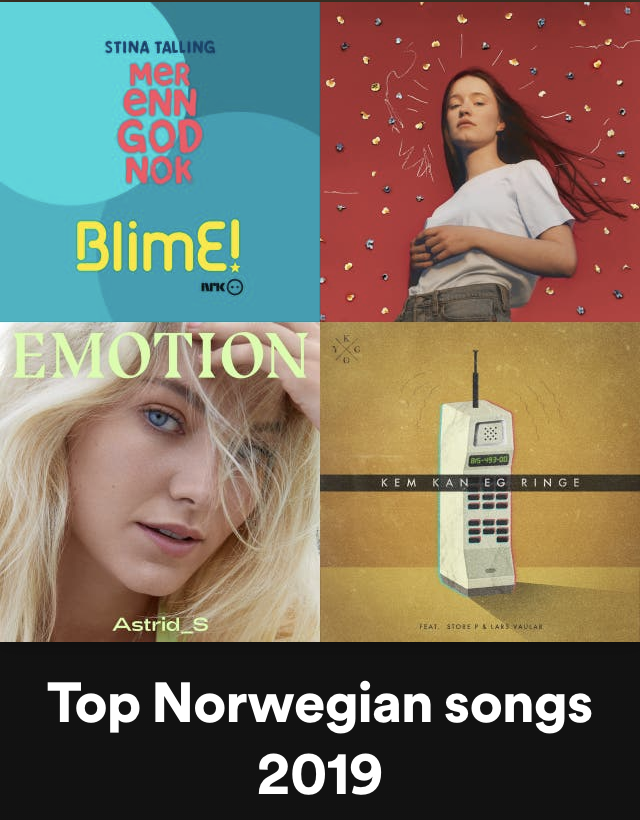 Here's a look back at some of the top songs by Norwegian artists in 2019. Check out our Spotify playlist to hear them all! (Login required, but signup is free.)
Emotion – Astrid S
Singer/songwriter Astrid S vents strong feelings about a past relationship through this vulnerable pop hit.
Kem Kan Eg Ringe – Kygo (feat. Store P & Lars Vaular)
Moody, hazy autotune club music. Bergen rappers Store P (Petter Skarre Sundby) and Lars Vaular want to hear a friendly voice but wonder "Who can I call?"
Mer Enn God Nok – Stina Talling
A solidarity anthem to help a friend regain their footing: "You're more than good enough."
This song was chosen as part of a national empathy campaign, BlimE! (Come along!) by the kids' program NRK Super. Each year a song is chosen and kids across Norway record themselves dancing to it.
Don't Feel Like Crying – Sigrid
An ethereal pop tune that belies the inner-turmoil following a breakup. Sigrid was named Newcomer of the Year in the 2018 Spellemannsprisen (Norwegian music awards) and headlined tours of North America and Europe in 2019.
Balkong – Unge Ferrari
Haunting and contemplative sounds coupled with aching lyrics. The character in this song thinks of their loved one, while wondering what would happen if they decide to end it all. Rapper/singer Unge Ferrari (Stig Joar Haugen) grew up in Hamar.
Raske Briller – Nicolay Ramm
Sports journalist/TV host and comic Nicolay Ramm topped the Norwegian charts with this spoof song called "fast glasses." It's a song about ski culture in Norway: even if you're not the best skier, at least your sunglasses make you look faster!
Helt Ærlig – Morgan Sulele
A Norwegian remake of the 90s hit "Informer," this summer jam keeps the catchy hook, adding new lyrics about a guy who is flummoxed by love.