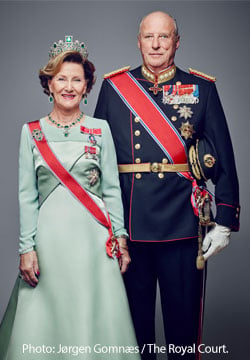 February 21 marks the 80th birthday of His Majesty King Harald V of Norway. In honor of this special occasion, here are five facts you might not know about the monarch.
1. First Norwegian king born in Norway in 567 years.
Although Norway's history dates back many centuries, the country's status as a modern independent nation is comparatively young. Due to the lengthy union with Denmark and later Sweden, many monarchs of Norway hailed from other European countries. The election of King Haakon VII (Harald's grandfather) in 1905 marked the first monarch chosen by an independent Norway since the Middle Ages.
2. He is an Olympian.
An avid sailor, H.M. King Harald represented Norway three times in the Olympics, participating in the 1964, 1968 and 1972 games. He and his crew also won World Championship bronze, silver and gold medals in 1988, 1982 and 1987. In 2005, they won the European Championships with the Fram XV.
3. He extended his Royal Patronage to the Sons of Norway Foundation.
In 1992 King Harald became a patron of the Sons of Norway Foundation. During subsequent years the king has affirmed continual confidence in the mission and philanthropy of the Foundation by renewing his patronage through 2020.
4. A portion of the Arctic is named after him.
Over 2,500 square miles of eastern Svalbard was dubbed "Harald V Land" by the Norwegian Polar Institute in honor of the king in 2013. King Harald is the third Norwegian monarch—preceded by Olav V and Haakon VII—to have part of Svalbard named in his honor. In 2015 he was the world's first reigning monarch to visit Antarctica.
5. His courtship was unique.
Then Crown Prince, Harald broke from tradition when he married Sonja Haraldsen, a commoner, after a nine-year courtship. After consulting with the Presidium of the Storting, parliamentary leaders and the Norwegian government, King Olav gave his permission for the couple to marry in March of 1968. On Aug. 29, 1968, Harald and Sonja were married at Oslo Cathedral.