Looking to beat the heat with some sweet treats? In Viking's August 2018 issue, Norwegian baker and food stylist Paul Lowe  (aka Sweet Paul) shows us how with his blackberry and raspberry striped ice pops. Check out the recipe below! Paul's website is brimming with other cool desserts, such as summer energy pops, lemon sorbet and mint and cucumber ice pops. Last year, Paul created five summer sippers exclusively for Viking, and we're exciting for another upcoming collaboration with him for the September issue.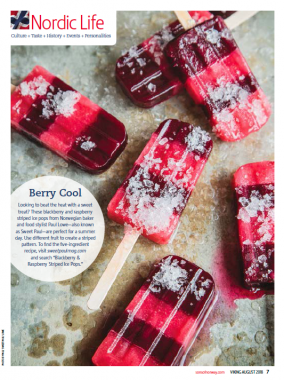 Blackberry and Raspberry Striped Ice Pops  
Makes 8 to 10 pops
2 cups blackberries
2 cups raspberries
1 cup sugar
2 cups water
4 Tbsp. lemon juice
You will need two saucepans; one for the blackberries and one for the raspberries.
Add half the sugar, water and lemon juice to each saucepan with the berries.
Bring to a boil and simmer for 5 minutes.
Use an immersion blender and liquefy each mixture.
Strain each liquid and cool.
Once cool, add a bit of one liquid to ice pop molds and freeze. Once frozen, add a bit of the other liquid and freeze.
Continue alternating flavors until you have a striped pop. Add the sticks to the last layer.
Once frozen solid, remove from mold and serve.