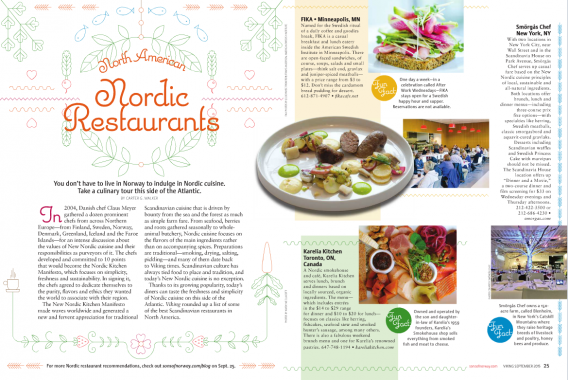 You don't have to live in Norway to indulge in Nordic cuisine. In Viking magazine's September 2015 issue, we highlight wonderful Scandinavian restaurants in North America, from The Bachelor Farmer in Minneapolis to Karelia Kitchen in Toronto. Thank you to the members who wrote in to let us know about some of your favorite Scandinavian restaurants. Send your ideas and recommendations to Viking's editor at [email protected]. Here are four more Scandinavian restaurants worth checking out.
Norske Nook Restaurant & Bakery
Multiple locations
From its 1973 beginnings, Norske Nook now has five restaurants across Wisconsin serving three meals a day with everything from lefse wraps and Scandinavian meatballs to lingonberry apple pie.
Sister Bay, Wis.
One of the most famous eateries in Door County, Al Johnson's is a family-owned Swedish restaurant that serves up Scandinavian favorites, such as meatballs, waffles, pancakes and limpa bread.
Denver, Colo.
Located in a beautifully refurbished 100-year-old pawn shop in Denver, Trillium serves dinner, every night but Monday, and the menu boasts specialties such as braised pork belly, foie gras with cloudberry preserves and aquavit-cured Scottish salmon.
Chicago, Ill.
Stop into Tre Kroner Restaurant  for breakfast, lunch or dinner to indulge in Scandinavian favorites such as Swedish pancakes, pickled herring, gravlax, Swedish meatballs and more.