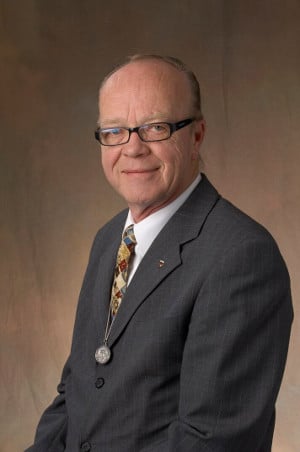 It is with and a heavy heart that we must report to our members on the passing of one of our own. Ernst Granly, a former International Director for Sons of Norway and good friend to the Headquarters staff passed away on December 15, surrounded by his loving family.
Ernst, who turned 71 earlier this year, was a man of joy and many words. His laugh was unmistakable as was his sense of humor. His wife, Astrid, has asked us to share the following:
Ernst left us at 12 o'clock on Tuesday 15 December in his bed on short-term department at Vilberg Helsetun. There he was warm and wonderfully good care day and night, and the staff supported us with his presence constantly.
Ernst was born on 21 May 1944, when the Germans held Stensby for themselves and their families. His mother was Astrid Fjeldstad, and her parents were Agnes and Kristian Fjeldstad from Sagmoen. Ernst's father Johan Helmer Granly was born leilendingsbruket Nordenga in Skrukkelia 12 April 1900 by parents Mina and Ole Halvorsen. Ernst's parents had settled on the second floor of Lovas in eastern Hurdalsveg at Eidsvoll Verk after the Spartan wedding ceremony in 1942.
In 1956-57 his parents bought Råholtbråtan on Teie, Råholt, and just before Christmas 1958 the family moved there. Ernst stopped schooling and chose a practical life first as earthworks at Aalborg Entreprenør AS and later years by Stream Workshop where he became the model carpenter first in steel production and later in plastic department. He won the competition for the name of the first trekjølede fiberglass boats manufactured in Norway, Trifoil.
Following Stream, he chose to go into advertising, working for NORREK and their factory for production of advertising items in plastic, Thermoplastic AS, in Kongens gate in Oslo. There he received great trust and great responsibility, and when the factory would be closed down in 1982 gave the employees the whole factory. It was moved to the basement premises in church road 16 on Råholt, and today what we know as Reklame-huset.no, operated and owned by his son Olav.
About Ernst's life otherwise, one could write a whole book. He spent 34 years in the National Guard as liaison officer, he was a department manager, district manager and sat for many years on the National Executive Committee / Association Board of Motorførernes Avholdsforbund. He was the spokesman for youth at congresses in the 1970s to push through the start of MA-Young, where his brother John became the first head.
In the mid-1980s there was great controversy in Eidsvoll  about the placement of a town hall in the village. Ernst along with Geir Kragstad started a petition to use Brensmork "middle of the village" as the city hall was empty after Badebakken was found to be  too difficult to build big on. The action got incredibly great support, from memory over 3,000 signatures, but the council chose Sundet and a plot where extensions of the Town Hall is impossible. Then came Ernst and more active in city hall action that would form Eidsvoll Democratic Board List to mark standpoints politically. In 1987 the list into five mandates and Labor suffered a crushing defeat. EDB has established lists at all local elections, but not in 2015.
Later chose Ernst being apolitical a period, before he joined the Conservative Party. Ernst was also a period chairman of the main committee for culture and industry.
Then there are the Sons of Norway, where he went all ranks. He was with the foundation of Eidsvold Lodge with Tore Fjeld as the first president in 1984, and later became president several years, before he became President of District 8, Norway, and later elected to the Executive Board in the US as International Director. He has fought in every year to keep "old country" as a separate district. Ernst burned for cultural and school-related exchanges of young people between Norway and the US, but also Canada. Therefore, we have created a memorial at the funeral. The money will go to the youth studies there – or for American youth in Norway. We ask that donations be made to the fund in lieu of flowers.
In addition Ernst was an avid amateur radio enthusiast throughout his adult life, and with the local amateur club, Gardermoen Radio Relay League.
He was in his time also chairman and member of the works council at the elementary and middle school on Råholt, active support for Råholt band, an avid sauna gangs and supporter of Eidsvold Vaerket Skiklub, head of STENSBY Friends, active in Råholt Well, while a keen Eidsvoll Verk -patriot.
Ernst put his own stamp on everything he was doing, and was respected for his clear and rapid conclusions. He had never learned English at school but participated actively in both organizational and financial debates in Sons of Norway's international board in Minneapolis, Minnesota.
Ernst will definitely be missed. If you have any memories of Ernst that you would like to share, please do so in the comments section.