Ingredients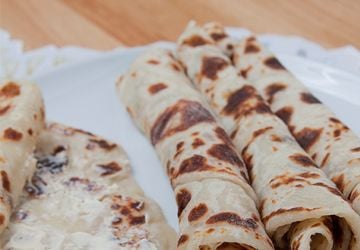 10 Lbs. Russet Potatoes, peeled
1 Lb. Unsalted Sweetcream Butter (room temperature)
Salt
2 1/2 Cups All-Purpose Flour
Materials Suggested
Electric Lefse Griddle
Pastry Board and 3-4 Pastry Cloth Covers
Corrugated Rolling Pin and 3-4 Rolling Pin Covers
Lefse Stick
Potato Ricer
Flour Dredger/Shaker
Recipe
Step 1
Bring a large stock pot full of water to a boil. Cut your peeled potatoes 2-3 pieces depending on size and cook until they are tender. You may need to do multiple batches if you are using a smaller pot.
Step 2
Rice the cooked potatoes into a large bowl with your potato ricer. Once you have riced all of the potatoes cover and let them cool overnight in your refrigerator.
Step 3
Remove your potatoes from the refrigerator and let them warm slightly. Move approximately half of the riced potatoes to a smaller bowl. Add the flour in 1/4 cup increments, along with 1/2 stick of butter in chunks and 1 Tsp. salt. Knead the mixture until everything is well mixed. Test the consistency of your dough, you are looking for a texture similar to light pie dough. It should form into a ball without sicking to your hands and hold its shape without cracking if you press the dough ball lightly with your thumb.
If the dough feels too sticky add a little more flour, if it is too dry or is cracking when pressed add another couple pats of butter. Taste the Lefse dough as you go, it should taste like potatoes not flour. The dough should be slightly salty and buttery, but be careful not to over-do-it on the salt.
Warm your griddle to 400°F/200°C. If you are using a traditional lefse griddle remember to place it on a surface that will not be damaged by the high level of ambient heat. The heat from your lefse griddle could cause your stone counter top to crack or your laminate counter tops to delaminate. It is recommended that you use something to cover your countertop to help dissipate the heat.
Step 4
Form the finished potato mixture into balls about the size of a golf ball. Flour a pastry board covered with a pastry cloth and rub the flour into the cloth. You want enough flour so that your lefse will not stick, but not so much that your lefse is completely covered in flour. Roll out your lefse on your pastry board until it is 1/8 inch thick. Using your lefse stick transfer the lefse to your griddle. Cook on the griddle until bubbles form and each side has browned. Place the lefse on a damp towel to cool slightly and then cover with a damp towel until ready to serve.
If you are storing the lefse, after it has cooled fold it in quarters and place 8-10 sheets into a 1 gallon freezer bag. Store in your freezer for upto 3 months. To thaw – remove from freezer, place on a plate covered with paper towels and allow to come to room temperature.