Ingredients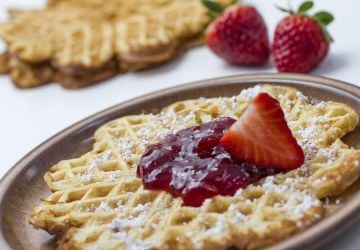 For the waffles
6 eggs
1/2 cup sugar
1 tsp. ground cardamom
1 1/2 cup flour
1 tsp. baking powder
pinch of salt
1 cup sour cream
1/2 cup melted butter
3 Tbsp. butter for frying
In America, waffles are eaten for breakfast, and the waffle irons are round or square with four sections. The usual toppings are butter and syrup. The vafler in Norway are served for dessert or as a treat in heart-shaped sections. They are much sweeter and softer than American waffles and are almost always homemade.
Recipe
Step 1
Mix eggs, sugar, and cardamom together in a big bowl.
Step 2
Add in flour, baking powder, and salt.
Step 3
Mix these ingredients and beat in sour cream and butter until the batter is smooth. Let the batter sit for about 20 minutes before you begin making the waffles.
Step 4
Heat up the waffle iron and brush some butter on the surface of the iron.
Step 5
Pour 1/4 cup batter over the iron and wait for the waffle to become light brown.
Step 6
Remove waffle (watch out, it's hot!) and serve warm.
Step 7
Top with jam, whipped cream, or sour cream. Try different toppings or make a waffle sandwich.