Ingredients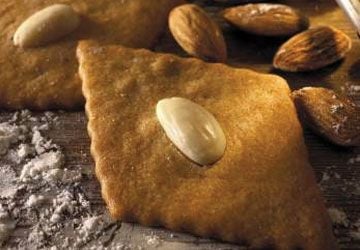 9 Tbsp. cream
1/2 Cup + 2 1/2 Tbsp. syrup
½ Cup + 2 1/2 Tbsp. sugar
7 Tbsp. butter
2 cups flour
1/4 tsp. pepper
1/4 tsp. ginger
1/4 tsp. anise
1/4 tsp. cinnamon
3/4 tsp. baking powder
3/4 tsp. baking soda
almonds, blanched, for decorating
Recipe
Step 1
Boil cream, syrup, and sugar together. Stir in butter and let mixture cool until lukewarm.
Step 2
Combine flour, pepper, ginger, anise, cinnamon, baking powder and baking soda. Whisk together the dry ingredients.
Step 3
Sift in dry ingredients and knead the dough to mix thoroughly. Chill overnight.
Step 4
Roll dough out as thin as possible and cut diagonal lines to make diamond shapes.
Step 5
Lay sirupsnipper on a greased baking sheet. Place half a blanched almond on each cookie. For a shiny finish, brush cookies with egg white. Bake at 350ºF for 5 minutes.
---
Excerted from December, 1999, Viking Magazine "Velkommen til Bords." Recipe from TINE Norske Meierier, the Norwegian dairy cooperative. Recipe is translated and converted from metric to U.S. measurements.