Ingredients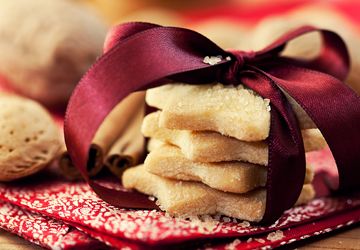 For the Cookies
2 sticks unsalted butter, softened
1 cup whole blanched almonds
1/2 cup sugar
2 cups flour
¼ tsp. salt
1 tsp. almond extract
To Decorate (optional)
Powdered sugar for dusting
Various colors of sanding sugar
Luster pearl deco dots
Frosting for piping designs
Recipe
Step 1
Puree 1/2 cup of the whole blanched almonds in food processor and set aside. Coarsely chop the remaining 1/2 cup of almonds and reserve for later.
Step 2
In a large mixing bowl, whisk the flour and salt together and set aside.
Step 3
Cream the butter with an electric mixer. Add the pureed almonds and sugar. Blend together until well-combined, and remember to scrape down the sides of the bowl occasionally. Add almond extract and mix until well combined. Next, add the flour mixture and beat until just incorporated.
Step 4
Prepare a lightly floured surface and pour out the dough, dividing it in half. Shape each half of the dough into a disc and wrap it in plastic wrap. Refrigerate the discs for at least an hour.
Step 5
While dough is resting, line cookie sheets with parchment paper.
Step 6
After dough has rested, preheat oven to 325°. (Use an in-oven thermometer to make sure that the temperature of your oven is accurate. Most ovens are 10-25° off of the temperature shown.)
Step 7
Lightly flour your work surface and roll out one disc of dough until it is about 1/4″ thick. Cut out shapes using various star cookie cutters. Sprinkle with the coarsely chopped almonds.
Step 8
Place the cut cookies onto cookie sheets lined with parchment paper and bake for 15-20 minutes. Keep an eye on your first sheet of cookies. You will know they are done when the edges start to turn golden brown. You now know how long each batch should take and can set your timer with no guess work.
Step 9
Place your cookies on a wire rack to cool.
Step 10
Once your cookies have cooled, dust them with powdered sugar or with sanding sugar if you want more color. Another great option are luster pearl deco dots.
Makes about 4 dozen cookies. (Note: These cookies can be stored in airtight containers for about a week.)