Ingredients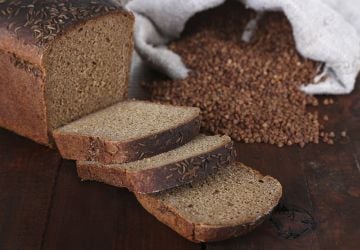 2 1/2 cups water 115ºF (45ºC)
2 pkgs. active dry yeast
1 Tbsp. dark syrup
2 Tbsp. margarine, melted and cooled
2 1/2 cups graham flour
3/4 cup dark rye flour
1 1/2-2 cups bread flour
1/4 cup wheat bran
3/4 cup oat bran
1 Tbsp. salt
Recipe
Step 1
In a large bowl, mix warm water, yeast, and syrup. Let stand 5 minutes until yeast dissolves. Melt margarine and cool.
Step 2
When yeast has dissolved, add all remaining ingredients. Mix with a wooden spoon until the dough leaves the sides of the bowl.
Step 3
Turn out onto a lightly floured surface and knead 5-8 minutes. Place in a lightly greased bowl, turn once. Cover tightly with lightly greased plastic wrap and set to cool overnight.
Step 4
Remove to a lightly floured surface and knead 2-3 minutes and shape into a round loaf. Place on parchment-lined baking sheet.
Step 5
Bake on lowest rack 30–40 minutes. Bread is done when internal temperature is 190–205°F (88–96°C). Or tap bread on the bottom— when it sounds hollow, it is done. Watch the top, so it does not become too dark. Cover with aluminum foil if necessary. Makes 1 large round loaf .
---
Ekte Norsk Mat–Authentic Norwegian Cooking is available for purchase, through the Vesterheim bookstore.