Ingredients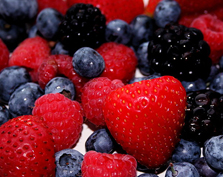 For the Cake
5 eggs, room temperature
3/4 cup sugar
1 tsp. baking powder
1/2 cup corn starch
1 cup all-purpose flour
For the Filling
2 cups puréed sweetened apricots
2 cups whipping cream
1 Tbsp. sugar
1 tsp. vanilla
For the Marzipan
1/2 cup ground almonds, sifted
powdered sugar – equal to sifted almonds
1 Tbsp. wine or water
This cake is great and never fails to impress. The sponge cake is an excellent cake to use as a base for any number of fancy tortes and can be made up ahead of time and frozen.
For the Cake
Step 1
Preheat your oven to 375°F. Cut wax paper to fit an 8″ (20 cm) round spring form pan.
Step 2
Beat room temperature eggs until light, about 5 minutes.
Step 3
Gradually add sugar and continue beating until very light and fluffy.
Step 4
Sift together flour, baking powder, and corn starch and gently fold into eggs.
Step 5
Pour into prepared pan and bake at 375ºF (190ºC) for 20 minutes, or until the cake springs back when lightly touched in the center.
Cool in pan for 10 minutes. Finish cooling on cake rack.
For the Filling
Step 1
Whip cream with sugar and vanilla.
Step 2
Split fully cooled cake in two even layers. (Here is a good tutorial on how to easily split a cake.)
Step 3
Spread half of the apricot purée on the bottom layer and then spread half of the whipped cream on top of the apricot purée.
Step 4
Gently set your other layer on top of the bottom layer, making sure you have it centered. Spread the other half of the apricot purée and whipped cream on top, reserve a little of the whipped cream for decorating when you are done.
For the Marzipan
Step 1
Measure ground almonds after they have been sifted and add an equal amount of sifted powdered sugar.
Step 2
Moisten with 1 Tbsp. wine or water to make a stiff dough. Add a few more drops of liquid if mixture is too hard.
Step 3
Dust working surface with sifted powdered sugar and roll out very thin.
Step 4
Transfer the marzipan onto the cake. Trim edges and remove any dry icing sugar with a brush dipped in cold water.
This cake is best the next day.