Ingredients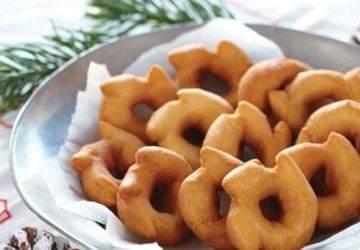 3 eggs
3/4 cup sugar
2/3 cup whipping cream
2/3 cup 35 percent fat sour cream
3 cups flour
2 tsp. horn salt (or 2 Tbsp. baking powder)
1 tsp. cardamom
2 Tbsp. melted butter
shortening or oil
Recipe
Step 1
Beat eggs and sugar until light and lemon-colored.
Step 2
In a separate bowl, whip cream and sour cream lightly.
Step 3
Sift the dry ingredients. Add alternately with melted butter and both creams to the egg mixture. Mix lightly together. Refrigerate overnight.
Step 4
Roll the dough into 8 mm (1/3″) sausages. Cut into 12 cm (5″) lengths. Form into a wreath. Make two notches along the edges.
Step 5
Heat the shortening or oil to 180ºC (350ºF). Deep fry, a few at a time, until golden, three to four minutes.
---
This recipe is taken from "The Norwegian Kitchen" which is available for purchase, through the Vesterheim Bookstore.
Vesterheim Museumsbutikk
523 West Water Street
Decorah, IA 52101
(800) 979-3346
www.vesterheim.org