Sjakkruter (Chessboard cookies) are a standby in the typical sju slag julekaker (7 types of Christmas cookies). Usually a square shape, this recipe from Trine's Matblogg.no has been adapted to make cute Nordic julekurv (heart basket) shapes. Enjoy making these vanilla-chocolate shortbread cookies!
Watch a video of the process online.
Ingredients
250 g (2 cups) all-purpose flour
75 g (3/4 cup) powdered sugar
200 g (3/4 cup plus 2 Tbsp.) unsalted butter, room temperature
2 Tbsp. cocoa
2 tsp. vanilla sugar
Directions
Blend together flour and powdered sugar. Add softened butter and mix with hands or mixer until you have a smooth dough. Tip: If your butter is cold, use a cheese grater to mince it before mixing with dry ingredients. Divide dough in two halves. In separate bowls, add cocoa to one half of dough and vanilla sugar to the other. Mix each until you have two smooth balls of dough.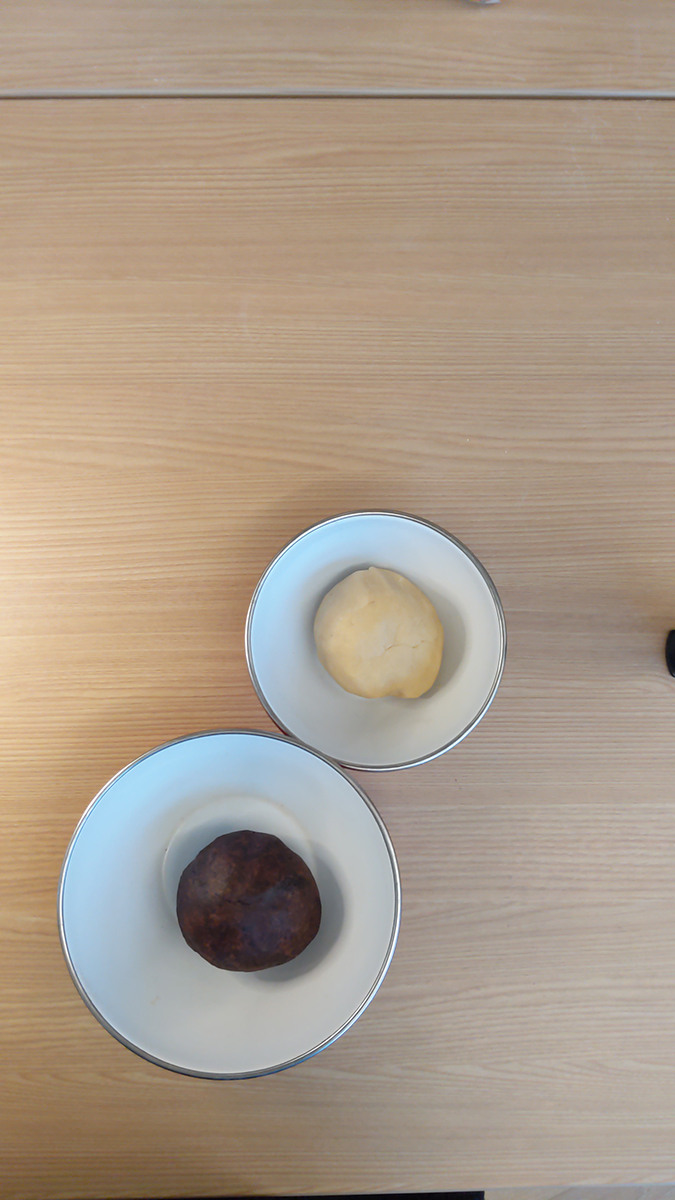 Divide each color of dough in half again, so you have two dark and two light balls of dough, each ¼ of the original dough. Set one ball of each color aside.
With these ¼ balls of dough, divide each of the colors into two lumps. Roll each of the lumps into a 30 cm (~12 inch) roll. Stack these rolls 2 by 2 in alternating colors to make the chessboard pattern. Lightly press together. Wrap in plastic wrap and chill 30 minutes (or more).
Taking the two lumps of dough you set aside, roll two 15 cm rolls, one in each color. Cut each lengthwise. Fuse these half rolls end to end into 30 cm pieces.
Unwrap your chilled chessboard dough. Press the larger rolls onto neighboring sides of the chilled dough to complete the julekurver (heart basket) look. Press together lightly, wrap in plastic wrap again and chill 30 minutes (or more).*
Unwrap chilled dough and cut into 7 mm (1/3 inch) slices. Place slices on cookie sheets lined with parchment paper. Bake at 175º C / 350º F on middle rack for about 10 minutes or until the edges of cookies have browned slightly.
Allow cookies to rest on the cookie sheet for a few minutes, then place them on a cooling rack to cool completely.
Store in an airtight box. These cookies keep well and can be baked well before Christmas.
*This dough freezes well, so after this step, wrap and freeze. You can make the heart basket shape in advance. Then, thaw, cut and bake!